WELCOME LETTER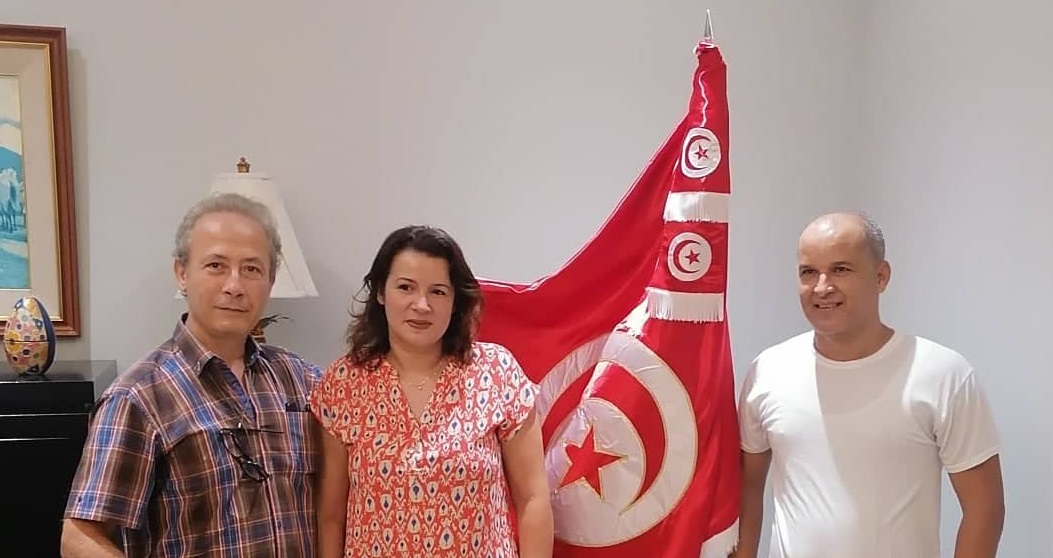 Dear Colleagues,
It is a great pleasure and honour to invite you to the 9th Mediterranean Neuroscience Society (MNS) Conference which will take place in beautiful Carthage in Tunisia, a UN ESCO World Heritage Site and certainly one of the most beautiful places in the Mediterranean, from 14
th
to 18
th
October 2023. We look forward to welcoming researchers, scientists, clinicians, students, educators, local and regional authorities, as well as civil society organisations in the neurosciences field and those interested in any aspect of research on brain function.
The COVID-19 pandemic has revealed vast inequities between populations and scientific research and technological development have become more necessary than ever for a better future and better equality. Also, a place to connect scientists from all around the world and let them share their research discoveries and experiences with the scientific community, particularly from developing countries or minorities now more than ever is needed. In this context, we hope that scientific interest in developing countries can be expanded particularly in neuroscience and the impact of MNS conferences is certainly in favour of the idea.
The 9
th
MNS Conference aims to promote knowledge and foster closer these mutual ties between the Mediterranean neuroscientists and neuroscientists at large and with your participation MNS will succeed.
As with previous MNS conferences, communications at the meeting will include high-quality Keynote and Symposia speakers and we would very sincerely thank President Giuseppe Di Giovanni and all the members of the MNS council for their work and commitment, especially to those most involved in the organization of the Conference. We also thank IBRO and FENS for their invaluable support. Their great teamwork will surely make this meeting one of the best.
Finally, we hope you enjoy the chance to learn and network at MNS2023 as you will also have the opportunity to visit Carthage with its history stretching back nearly three millennia, the capital Tunis and the elegant village of Sidi Bou Said where the blue and white houses are the best of traditional Tunisian architecture.
Sincerely,
Olfa MASMOUDI and Taoufik GHRAIRI
MNS2023 Conference Chairs
Giuseppe DI GIOVANNI
MNS President
COMMITTEES & ORGANISER
CONFERENCE ORGANIZER:
Mediterranean Neuroscience Society
SCIENTIFIC COMMITTEE:
Prof Giuseppe Di Giovanni (University of Malta, Malta) - President
Dr Liana Fattore (IN-CNR, Italy) - Past-President
Prof Christina Dalla (University of Athens, Greece) - Vice-President
Prof Goran Simic (University of Zagreb, Croatia) - General-Secretary
Prof Ali Jahanshahi (MUMC+, Netherland) - Treasurer
Prof Amira Zaky (Alexandria University-Egypt) - Councilor
Prof Aviv M. Weinstein (Ariel University, Israel) - Councilor
Prof Khalid El Lali (IAV Hassan II, Morocco) - Councilor
Prof Patrizia Campolongo (University of Rome, Italy) - Councilor
Prof Jacques Noël (Université Côte d'Azur Nice, France) - Councilor
Prof Patrick Vuillez (Strasbourg University, France) - Councilor
Prof Nuno Sousa (University of Minho, Portugal) - Councilor
Prof Olfa Masmoudi (University of Tunis El Manar, Sousse, Tunisia) - Councilor
Prof Fatiha Chigr (Université Sultan Moulay Slimane, Morocco) - Councilor
Prof Rosario Moratalla (Female )Instituto Cajal, Madrid, Spain) - Councilor
ORGANIZING COMMITTEE:
Prof Olfa Masmoudi (University of Tunis El Manar, Tunisia) - President
Prof Taoufik Ghrairi (University of Tunis El Manar, Tunisia) - Associate President
Prof Giuseppe Di Giovanni (University of Malta, Malta) - Honorary President
Prof Amira Zaky (Alexandria University-Egypt) - Member
Prof Nouria Lakhdar-Ghazal (Mohammed V University of Rabat) - Member
Prof Said Glai (National Institute of Neurology, University Tunis El Manar) - Member
Dr Yosra Hamdi (University of Tunis El Manar, Tunisia) - Member
Prof Marc Landry (University of Bordeaux, FR) - Honorary Member
Prof Christina Dalla (University of Athens, Greece) - Honorary Member
Prof Khalid El Lali (IAV Hassan II, Morocco) - Member
Prof Fatiha Chigr (Université Sultan Moulay Slimane, Morocco) - Member
Prof Patrizia Campagnolo (Sapienza University of Rome, Italy) - Member
Dr Liana Fattore (IN-CNR, Italy) - Member