ALEXANDRIA 2009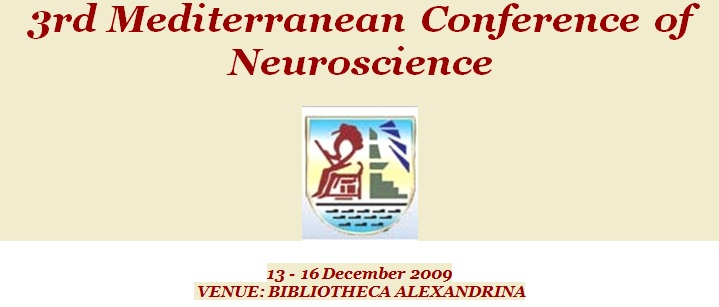 3rd Mediterranean Conference of Neuroscience Conference
Bibliotheca Alexandrina, Alexandria, Egypt 13-19 December 2013
President: Marie Moftah, Egypt
Programme:
link
The 3
rd
Mediterranean Conference of Neuroscience was a great success. It gathered more than 250 participants from not only Mediterranean countries but also from Asia, northern Europe and the Americas. It was preceded by a 3-day mini-school of Neuroscience sponsored by the NFBRIE (Neuroinsight Foundation for Brain Research Initiatives in Egypt: Cherine Fahim). Many Neuroscience societies were represented: The French Neuroscience Society (Mohamed Jaber), the International Brain Research Organization (Marina Bentivoglio), the South-Mediterranean Neuroendocrine group (Mohamed Bennis), the Society of Neuroscientists of Africa (Nouria Lakhdar Ghazal), the Société de Neuroendocrinologie (several representatives) and the International Neuroendocrine Federation (William Rostene). A total of 25 Symposia, 10 plenary lectures, 16 oral and 56 poster presentations were discussed during the meeting and published on Frontiers website.
The main achieved goal of this conference was to bring together top scientists to share their knowledge on how the brain works, how it guides our behaviour and the role played by the endocrine system in this amazing process. The far-reaching aim, however, was to build a collaborative network in Neuroscience, with much emphasis on structuring the Mediterranean research area. During the closing ceremony of the conference, a Mediterranean Neuroscience Society (MNS) has been created and an executive bureau elected. It was agreed to make its base in France and the presidency turning around Mediterranean countries; the 1st elected president was French, Driss Boussaoud, and the 1st elected vice-president was Egyptian, Marie Moftah.
A satellite event also took place during the conference. The first Strategic Management Committee meeting of the N€uroMed project was scheduled to gather the seven Euro-Mediterranean partners (Algeria, Egypt, France, Italy, Morocco, Spain, Turkey) around the table, where they discussed activities, workplans and workshops to be accomplished in the three upcoming years. This European project (FP7) aims at creating a Euro-Mediterranean network of Neuroscience, thus rejoining and supporting the creation of the MNS.
Abstracts are available at
Frontiers website
ORGANISING COMMITTEE
President: Marie Moftah (Egypt)
SCIENTIFIC COMMITTEE
Ismaïl Sabry (Alexandria, Egypt)
Yehezkel Ben-Ari (Marseille, France)
Wail Benjelloun (Rabat, Morocco)
Mohamed Bennis (Marrakech, Morocco)
Marina Bentivoglio (Verona, Italy)
Driss Boussaoud (Marseille, France)
André Calas (Bordeaux, France)
Mohamed Jaber (France)
Gwendal Le Masson (Bordeaux, France)
Marc Landry (Bordeaux, France)
Guadalupe Mengod (Barcelona, Spain)
André Nieoullon (Marseille, France)
LOCAL ORGANISING COMMITTEE
Marie Moftah (Alexandria, Egypt)
Hedayat Abdel Ghafar (Alexandria, Egypt)
Mona El Tewessy (Alexandria, Egypt)
Omar Shalaby (Alexandria, Egypt)
Lamiaa Mostafa (Alexandria, Egypt)
Wessam Abdel Wahab (Alexandria, Egypt)
Sherine Abdel Salam (Alexandria, Egypt)
Nagwa El Refai (Alexandria, Egypt)
Mariam Osmane (Alexandria, Egypt)
Mayada Aly (Alexandria, Egypt)
Reda Gamal (Alexandria, Egypt)
Sarah Elramah (Alexandria, Egypt)
Eiman Abbas (Alexandria, Egypt)
Salma El Shewemy (Alexandria, Egypt)
Eman Hashem (Alexandria, Egypt)
Heba Elsaidy (Alexandria, Egypt)
Khaled Salem (Alexandria, Egypt)
HONORARY COMMITTEE
Hind Mamdouh HANAFY, President of Alexandria University
Essam KHAMIS, Vice-President of Alexandria University
Mahmoud GABR, Dean of the Faculty of Science, Alexandria University
Mohamed ISMAÏL, Vice-Dean of the Faculty of Science, Alexandria University