ISTANBUL 2012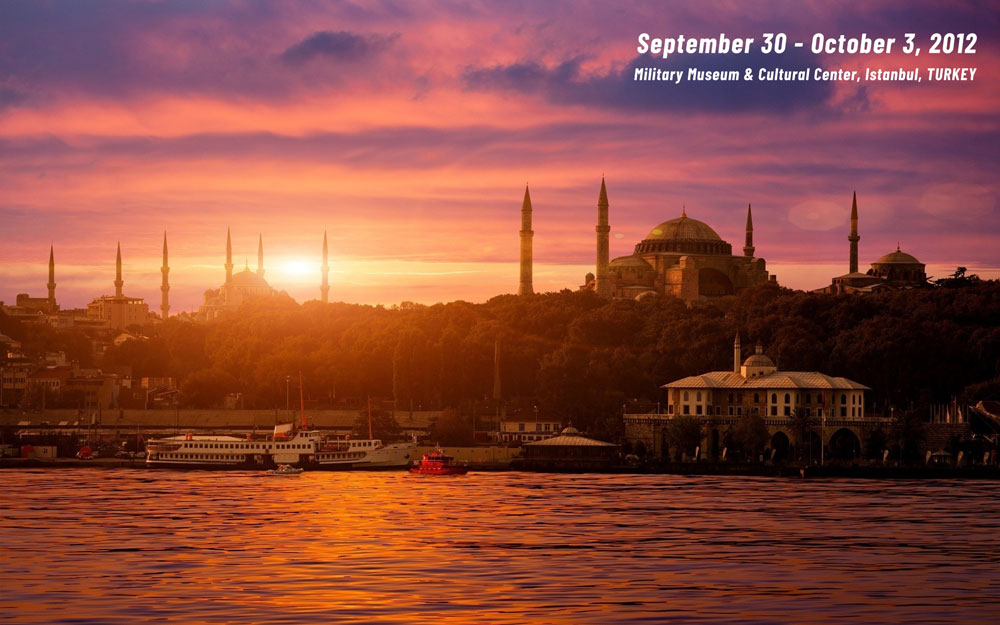 4th Conference of the Mediterranean Neuroscience Society (MNS)
Istanbul, Turkey, 30 September - 3 October 2012
Military Museum and Culture Centre, Harbiye-Sisli, Istanbul, Turkey
President: Yasin Temel (Turkey/Netherlands)
Programme:
link
The 4
th
Conference of the Meeting of the Mediterranean Neuroscience Society (MNS) took place in Istanbul, Turkey, 30 September - 3 October 2012 with Dr. Yasin Temel as the President of the conference. The 2012 MNS Conference gathered multiple participants from various countries and offered a rich scientific program with 5 Plenary Lecturers, 12 symposia, and 2 Poster Sessions. Social events included an opening reception (September 30, evening), Lunch Poster Session (October 01, 02 and 03, afternoon) and the Gala Dinner (October 02, evening).
As detailed reported in the scientific programme, in this meeting we had the pleasure of welcoming an exceptional lineup of Lecturers from France (G. Marsicano), Turkey (M. Erme), France (J. Epelbaum), Italy (G. Rizzolatti) and UK (W. Schultz). The topics of the Lectures witnessed the interdisciplinary nature of the conference by encompassing different fields of Neuroscience, such as Molecular, Clinical, Cognitive, Computational, and Neuroendocrinology.
Topics included cannabinoid signaling, memory and emotions, circadian rhythms and regulations, update on Alzheimer's disease, neuroendocrine aging and regulations, neuroglia functions, chronic pain, neuroimaging and brain functions, serotonin and neuropsychiatric disorders, reward, risks and decision making.
During the two Lunch Poster Sessions, Poster Presenters (mostly PhD and post-doc Students) had the opportunity to present their work and to discuss data with senior neuroscientists coming from different disciplines and Mediterranean countries. The meetings have proved to be highly beneficial, not only for the scientific exchanges but also in terms of training opportunities for students and young researchers.
Abstracts are available at Frontiers website
https://www.frontiersin.org/events/4th_Conference_of_the_Mediterrarnean_Neuroscience_Society/1753/abstracts
ORGANISING COMMITTEE
President: Yasin Temel (Turkey/Netherlands)
Vice-Presidents: Abdelhamid Benazzouz (France) and Hagai Bergman (Israel)
SCIENTIFIC COMMITTEE
Hedayat Abdel Ghaffar (Egypt)
Nora Abrous (France)
Thomas Boraud (France)
Driss Boussaoud (France)
Fatiha Chigr (Morocco)
Gustavo Deco (Spain)
Marc Landry (France)
Olivier Manzoni (France)
Marie Moftah (Egypt)
Mohamed Najimi (Morocco)
Paul Pévet (France)
LOCAL ORGANISING COMMITTEE
Feridun Acar, Denizli
Nazan Aydin, Erzurum
Koray Basar, Ankara
Cengiz Cokluk, Samsun
Suleyman Kaplan, Samsun
Bunyamin Unal, Erzurum
Melike Sahiner, Istanbul
Turker Sahiner, Istanbul
Ali Savas, Ankara