MALTA 2017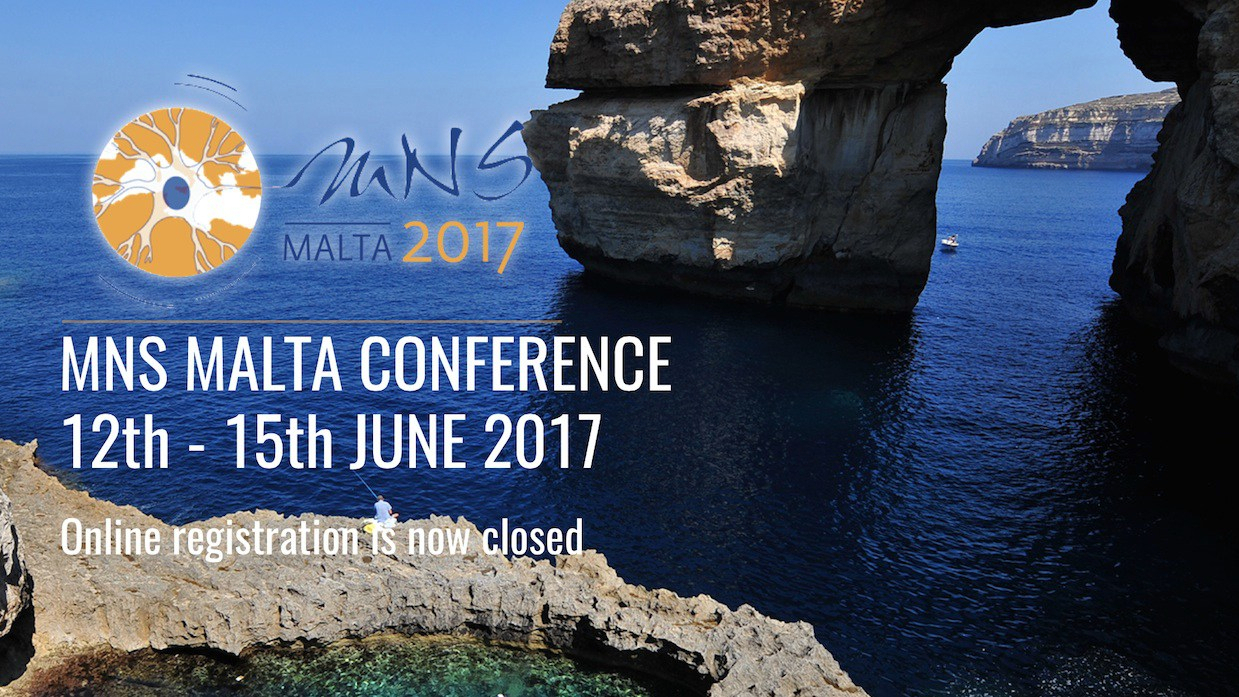 6th Conference of the Mediterranean Neuroscience Society (MNS)
St Julian's, Malta, 12-15 June 2017
President: Giuseppe Di Giovanni, Malta
Programme:
link pdf
The 6
th
Edition of the Meeting of the Mediterranean Neuroscience Society (MNS) took place in St Julian's, Malta, on June 12-25, 2017 with Prof. Giuseppe Di Giovanni as the President of the conference. This event was a great success, being the largest MNS conference since the beginning of the series. The 2017 MNS Meeting gathered 400 participants from 41 different countries, including Canada, USA and Australia, and offered a rich scientific program with 9 Plenary Lecturers, 67 selected contributed symposia, 9 keynote speakers and 4 Poster Sessions.
As detailed reported in the scientific program, in this meeting we had the pleasure of welcoming an exceptional lineup of Lecturers Keynote lectures: Giacomo Rizzolatti (University of Parma and University of Malta), Michaela Matteoli (University of Milan), Raphael Mechoulam (Hebrew University of Jerusalem), Pierre Magistretti (EPFL, Lausanne and KAUST, Saudi Arabia – IBRO president), Rosa Cossart (Aix-Marseille University – INSERM), Ilana Gozes (Tel Aviv University), Carmen Cavada (Autonomous University of Madrid) and Vincenzo Crunelli (University of Cardiff and University of Malta). An additional special lecture featured Juan Lerma (Neuroscience Inst. of Alicante, secretary general of the FENS). There was an exciting program, as it is shown by the conference proceedings and a relevant article with information on awards. A special round table on initiatives for euro-mediterranean cooperation was also held, featuring David Hansel (University Paris-Descartes) and Ahmed El Hady (Princeton University), as representatives of the training initiative Neurobridges, as well as a video-message by Mohammed Herzallah, leader of the Palestinian Neuroscience Initiative.
The topics of the Lectures witnessed the interdisciplinary nature of the meeting by encompassing Synaptic function, Mirror Neurons, Cellular and Network dynamics, Endocannabinoids, Neuroglia and neuronal plasticity, Catecholaminergic innervations in Parkinson's Disease, and Neuropeptides in Neurodegenerative and Psychiatric disorders. In line with the scientific interests of symposia organizers and invited speakers, many symposia were focused on the serotonin receptors and new therapeutics, mechanism and therapeutic relief for Tourette's Syndrome, Drug addiction, circadian rhythms and network, Parkinson's disease and Schizophrenia, Pain, Mental disorders, Neuroinflammation, Transcranial magnetic stimulation in addiction, Neurcytoskeleton functions in neurodegenerative and psychiatric diseases, Stress-related disorders, and Novel psychoactive substances are only a few examples. There was an exciting program, as shown by the conference proceedings and a
relevant article
with information on awards.
A special round table on initiatives for euro-Mediterranean cooperation was also held, featuring David Hansel (University Paris-Descartes) and Ahmed El Hady (Princeton University), as representatives of the training initiative
Neurobridges
, as well as a video-message by Mohammed Herzallah, leader of the
Palestinian Neuroscience Initiative
.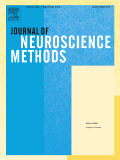 MNS2017 Mediterranean Neuroscience Methods
https://www.sciencedirect.com/journal/journal-of-neuroscience-methods/vol/310/suppl/C
Guest Editoris: Liana Fattore, Marc Landry, Giuseppe Di Giovanni
Editorial link to
https://www.sciencedirect.com/science/article/pii/S0165027018303625
This special issue of Journal of Neuroscience Methods comprises some of the works on new methodologies presented at the last Mediterranean Conference of Neuroscience that was organized in June 2017 in St. Julian's, Malta. The MNS was created in 2009 by a group of Mediterranean neuroscientists willing to strengthen exchanges between countries of the Euro-Mediterranean region, promote education in Neuroscience and increase public awareness and sustain the Mediterranean Neuroscience Conference. The biennial meeting of the Mediterranean Neuroscience Society represents today a unique opportunity for scientists, clinicians and researchers from both the North and the South shores of the Mediterranean Sea to meet and present data from respective labs, discuss common projects of research and evaluate potential collaborations on shared fields of interest. Gathering more than 400 participants from over 30 different countries, including Canada, the USA, and Australia, MNS Meetings are not only important scientific events but also special social events, where science overlooks cultural differences.
Altogether, we believe that the articles presented in this Special Issue provide an important contribution to different methodologies to study the brain structure and neural networks in brain physiology and pathology. In June 2019, after six previous successful editions (Montpellier 1997; Marrakech 2006; Alexandria 2009; Istanbul 2012; Pula-Sardinia 2015; La Valletta-Malta 2017), the 7th edition of the meeting of the Mediterranean Neuroscience Society will take place in Marrakech (Morocco). We look forward to hosting you in one of the most vibrant cities in the Mediterranean. It will surely be a memorable experience.
CONTRIBUTIONS
Modelling motor neuron disease in fruit flies: Lessons from spinal muscular atrophy.
Beppe Aquilina, Ruben J. Cauchi. Pages 3-11.
Superparamagnetic iron oxide nanocolloids in MRI studies of neuroinflammation.
Lorenzo Ugga, Valeria Romeo, Enrico Tedeschi, Arturo Brunetti, Mario Quarantelli. Pages 12-23.
T-pattern detection and analysis for the discovery of hidden features of behaviour
M. Casarrubea, M.S. Magnusson, M.T. Anguera, G.K. Jonsson, ... G. Crescimanno. Pages 24-32.
Rat 50-kHz ultrasonic vocalizations as a tool in studying neurochemical mechanisms that regulate positive emotional states.
Nicola Simola, Stefan M. Brudzynski Pages 33-44.
A concise review of optical, physical and isotropic fractionator techniques in neuroscience studies, including recent developments.
Ömür Gülsüm Deniz, Gamze Altun, Arife Ahsen Kaplan, Kiymet Kübra Yurt, ... Suleyman Kaplan. Pages 45-53.
Pharmacology of epileptogenesis and related comorbidities in the WAG/Rij rat model of genetic absence epilepsy.
Emilio Russo, Rita Citraro. Pages 54-62.
Models and methods for conditioning the ischemic brain.
Antonio Vinciguerra, Ornella Cuomo, Pasquale Cepparulo, Serenella Anzilotti, ... Giuseppe Pignataro. Pages 63-74.
Animal models of early-stage Parkinson's disease and acute dopamine deficiency to study compensatory neurodegenerative mechanisms.
Laura Clara Grandi, Giuseppe Di Giovanni, Salvatore Galati. Pages 75-88.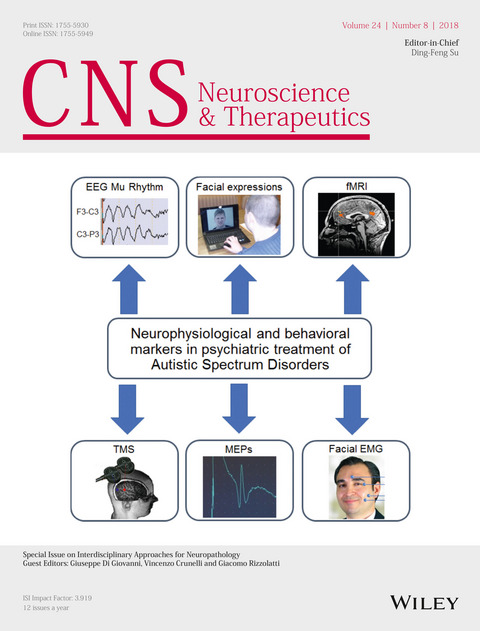 Front cover:
The cover image, by Radwa Khalil et al., is based on the Review Article
Social Decision Making in Autism: On the impact of Mirror Neurons, Motor Control and Imitative Behaviors
, DOI:
https://doi.org/10.1111/cns.13001
EDITORIAL Open Access
Interdisciplinary approaches for neuropathology
Giuseppe Di Giovanni Vincenzo Crunelli Giacomo Rizzolatti
MNS2017 UPDATE ON NEUROPATHOLOGY
https://onlinelibrary.wiley.com/doi/full/10.1111/cns.13004
The brain is unarguably the most complex and quite possibly the most fascinating organ in the body. It has inspired many generations of scientists to commit their own brain power to studying nervous system development, structure, and function. Unfortunately, the mysteries of the human nervous system defy easy exploration, but this has not deterred research in understanding neurological disease pathogenesis. The problem for health posed by brain disorders in the developed world and in many developing societies such as Mediterranean countries is demanding major important changes regarding the approach, efficiency, and solvency of governments, health systems, and the medical community. Research on brain function in health and disease is among the priorities of today's societies, and several indicators put the Mediterranean research area among strategic issues for the European Union (EU).
The Mediterranean Neuroscience Society (MNS) (https://mnsociety.live/), a member of IBRO, is highly active in this field and works toward three main objectives: (i) strengthening exchanges between Mediterranean neuroscientists from more developed countries in the world; (ii) promoting education in the neurosciences and increasing public awareness of progress in the field; (iii) sustaining scientific, training, and networking events, such as, in particular, the biennial Mediterranean Neuroscience Conference.
Many South–North collaborations and networks have emerged in recent years through bilateral and multi-lateral actions, supported by the EU or by international and national actions, whether for setting up teaching curricula (eg, Tempus programs), or building human potential (eg, FP7, H2020). Many other initiatives of cooperation (eg, Neurobridges) have seen the light of day, initiated by groups of motivated individuals who believe in the importance of scientific cooperation as a way to alleviate political distress between cultures.
The main pillar on which a government with an efficient health system has to stand on in dealing with brain disorders is a strong education system and research program with scientists motivated to understand the causes of the disease, implementing early diagnostic procedures, and discovering new and effective treatments to slow down the progression of the disease, thereby reducing disability and costs, and increasing the quality of life of the patients and their families. Currently, we are also in a favorable position to enter into two new areas of progress, such as prevention, relying on interesting new findings related to the molecular neuropathology and genetics of brain diseases, and also pharmacogenomics, as the most effective manner of optimizing drug development and therapeutics, increasing efficacy and safety, and reducing side-effects and unnecessary costs.
CONTRIBUTIONS
Social decision making in autism: On the impact of mirror neurons, motor control, and imitative behaviors
Radwa Khalil Richard Tindle Thomas Boraud Ahmed A. Moustafa Ahmed A. Karim Pages: 669-676
The Basal Ganglia: More than just a switching device
Tiziana Marilena Florio Eugenio Scarnati Ilaria Rosa Davide Di Censo Brigida Ranieri Annamaria Cimini Angelo Galante Marcello Alecci Pages: 677-684
System neuroscience: Past, present, and future
Giacomo Rizzolatti Maddalena Fabbri-Destro Fausto Caruana Pietro Avanzini Pages: 685-693
Modulation of forebrain function by nucleus incertus and relaxin-3/RXFP 3 signaling
Francisco E. Olucha-Bordonau Héctor Albert-Gascó Francisco Ros-Bernal Valeria Rytova Emma K. E. Ong-Pålsson Sherie Ma Ana M. Sánchez-Pérez Andrew L. Gundlach Pages: 694-702
Behavioral fragmentation in the D1CT -7 mouse model of Tourette's syndrome
Andrea Santangelo Marco Bortolato Laura J. Mosher Giuseppe Crescimanno Giuseppe Di Giovanni Emanuele Cassioli Valdo Ricca Maurizio Casarrubea Pages: 703-711
Activation of 5-HT 7 receptor by administration of its selective agonist, LP -211, modifies explorative-curiosity behavior in rats in two paradigms which differ in visuospatial parameters
Cristiana Carbone Annalisa Adinolfi Stefano Cinque Enza Lacivita Enrico Alleva Marcello Leopoldo Walter Adriani Pages: 712-720
Preferential modulation of the lateral habenula activity by serotonin-2A rather than -2C receptors: Electrophysiological and neuroanatomical evidence
Francis Delicata Cristiano Bombardi Massimo Pierucci Roberto Di Maio Philippe De Deurwaerdère Giuseppe Di Giovanni Pages: 721-733
Evaluation of cerebrospinal fluid phosphorylated tau231 as a biomarker in the differential diagnosis of Alzheimer's disease and vascular dementia
Spomenka Kiđemet-Piskač Mirjana Babić Leko Antonela Blažeković Lea Langer Horvat Nataša Klepac Zdenko Sonicki Danijela Kolenc Patrick R. Hof Marina Boban Ninoslav Mimica Fran Borovečki Goran Šimić Pages: 734-740
Does the Serotonin2C receptor segregate circuits of the basal ganglia responding to cingulate cortex stimulation?
Mélanie Lagière Marion Bosc Sara Whitestone Julien Manem Hasna Elboukhari Abdelhamid Benazzouz Giuseppe Di Giovanni Philippe De Deurwaerdère Pages: 741-744
Genetic rescue of absence seizures
Cian McCafferty William M. Connelly Roberta Celli Richard T. Ngomba Ferdinando Nicoletti Vincenzo Crunelli Pages: 745-758
ORGANISING COMMITTEE
President: Giuseppe Di Giovanni (Malta)
Honorary Presidents: Giacomo Rizzolatti (Italy/Malta) and Vincenzo Crunelli (UK/Malta)
SCIENTIFIC COMMITTEE
Marc Landry (France)
Liana Fattore (Italy)
Giuseppe Di Giovanni (Malta)
Youssef Anouar (Egypt)
Sherine Abdel Salam (France)
Saïd Boujraf (Morocco)
Demian Battaglia (France)
Patrizia Fattori (Italy)
Radwa Khalil (Egypt)
Latifa Dorbani-Mamine (Algeria)
Mohammed Errami (Morocco)
Suleyman Kaplan (Turkey)
Marie Moftah (Egypt)
Francisco Olucha Bordonau (Spain)
Azza Sellami (Tunisia)
LOCAL ORGANISING COMMITTEE
Giuseppe Di Giovanni (Malta)
Giacomo Rizzolatti (Italy/Malta)
Vincenzo Crunelli (UK/Malta)
Liana Fattore (Italy)
Marc Landry (France)
Richard Muscat (Malta)
Christian Scerri (Malta)
Kenneth Camilleri (Malta)
Ian Thornton (Malta)
Maria Cristina D'Adamo (Malta)
Massimo Pierucci (Malta)